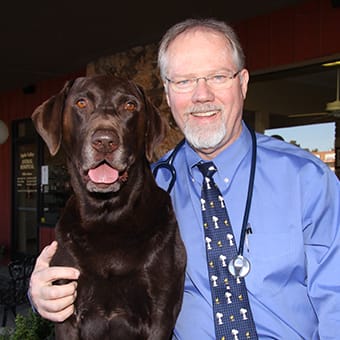 Dr. Jessen
Dr. Jessen was born and grew up on a farm near a small town in central Nebraska. That experience lead him toward veterinary medicine. After a year at the University of Nebraska, he transferred to Kansas State University to attend the College of Veterinary Medicine. He graduated in 1976 and joined the USAF in New Jersey for three years. Eventually he became a High Desert resident and started Apple Valley Animal Hospital in 1987.
He practiced for almost 30 years there and then sold AVAH in 2016. Dr Jessen still practices at AVAH part-time and really enjoys the staff, the clients, and the patients! He has many stories to tell about many different species of animals!
Dr Jessen also enjoys time with his wife Karen (the former AVAH Practice Manager), their children, grandchildren, and great grandchildren, as well as music, cycling, traveling, church activities, Rotary, and much more! He feels very Blessed to have enjoyed so many years of veterinary medicine and all the long term friends he has gained through those years.